The SYNTHdetect World Best CVD Testing Machine Of De Beers Group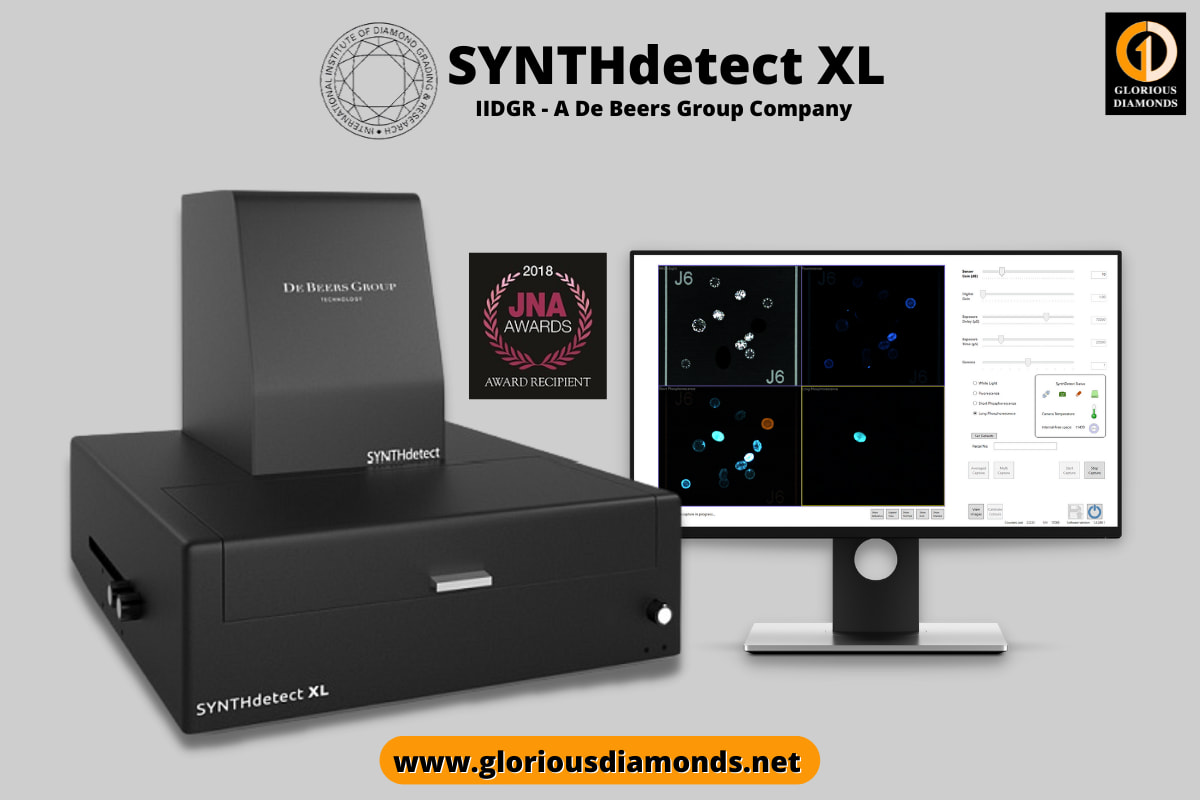 The SYNTHdetect XL, built by the world's largest diamond mining firm, the De Beers group, is Glorious Diamonds' most advanced CVD (Lab Grown or Man Made) diamond testing system. De Beers Group makes IIDGR in their own laboratory (The International Institute of Diamond Grading & Research)
SYNTHdetect XL – is a more advanced version of the company's highly successful synthetic screening gadget. It is highlighted instantly and with excellent accuracy, with the lowest referral rate of any gadget on the planet."
Glorious Diamonds advises clients to purchase diamonds from sellers who have the highest accuracy CVD testing machine or who are willing to provide written evidence of natural diamond. Whoever purchased a diamond from Glorious Diamonds may offer it to their customer with 100% guarantee, 100% confidence & complete trust of genuine diamonds.
SYNTHdetect XL (CVD Testing Machine)
For loose and mounted diamonds, SYNTHdetect XL is a desktop diamond verification tool. Its function is to determine the difference between natural diamonds and synthetic diamonds and diamond simulants.
What is SYNTHdetect XL (De Beers) IIDGR
• The SYNTHdetect XL (CVD Testing Machine) device is the newest addition to The International Institute of Diamond Grading & Research (IIDGR) screening and detection range. It's designed for testing stones in jewellery, but it can also be used to test loose stones. It can be used to test colourless to near-colorless stones, and there is no size limit.
• IIDGR has released SYNTHdetect XL (CVD Testing Machine), a larger version of the original model that increases user efficiency by allowing a larger number of pieces of jewellery to be checked at a faster rate.
• Diamond rings, bangles, brooches, necklaces & diamond jewlery can all be examined using the various jewellery attachments. In the sampling tray, you can see larger jewellery items as well as loose stones.
• An image is shown on a high-resolution touch screen using the principle of time-resolved photoluminescence, and the stone's natural or synthetic status can be determined.
• Through proprietary technology, SYNTHdetectXL has revolutionised synthetic diamond detection for our customers, making the process of screening synthetic diamonds exceedingly simple and efficient.
• Consumers need more certainty about the source and authenticity of their diamonds, and technology acts as a helping tool. The updated version retains the detection procedures created for the original SynthDetect XL device for identifying natural (mined) diamonds, which means that if a stone in a piece of jewellery does not exhibit the characteristics of a natural diamond, it will be highlighted quickly and accurately.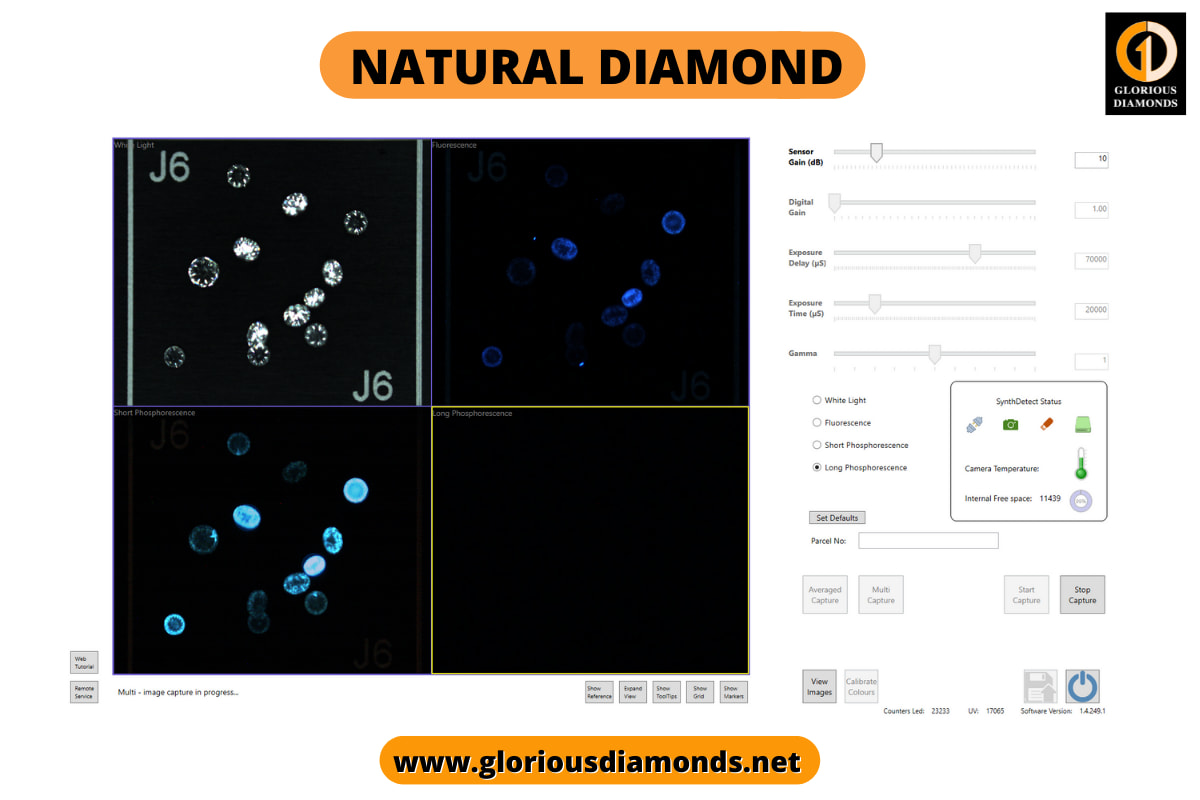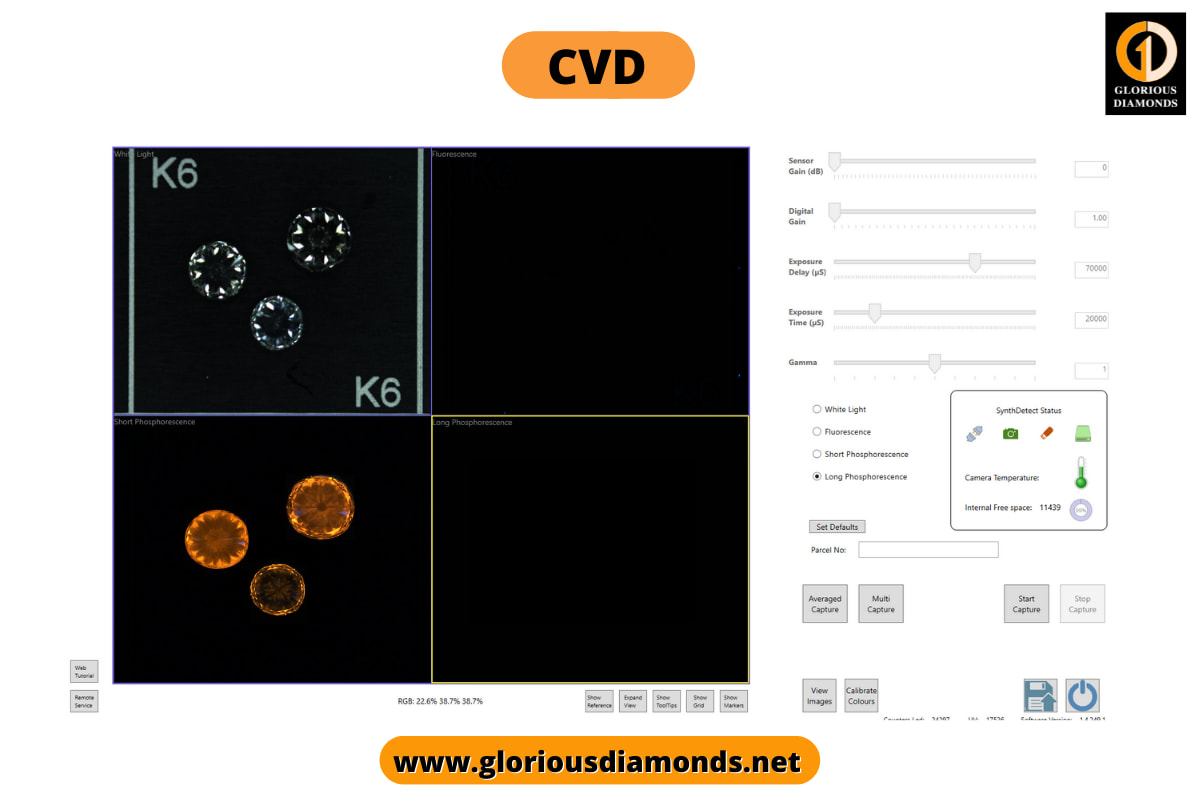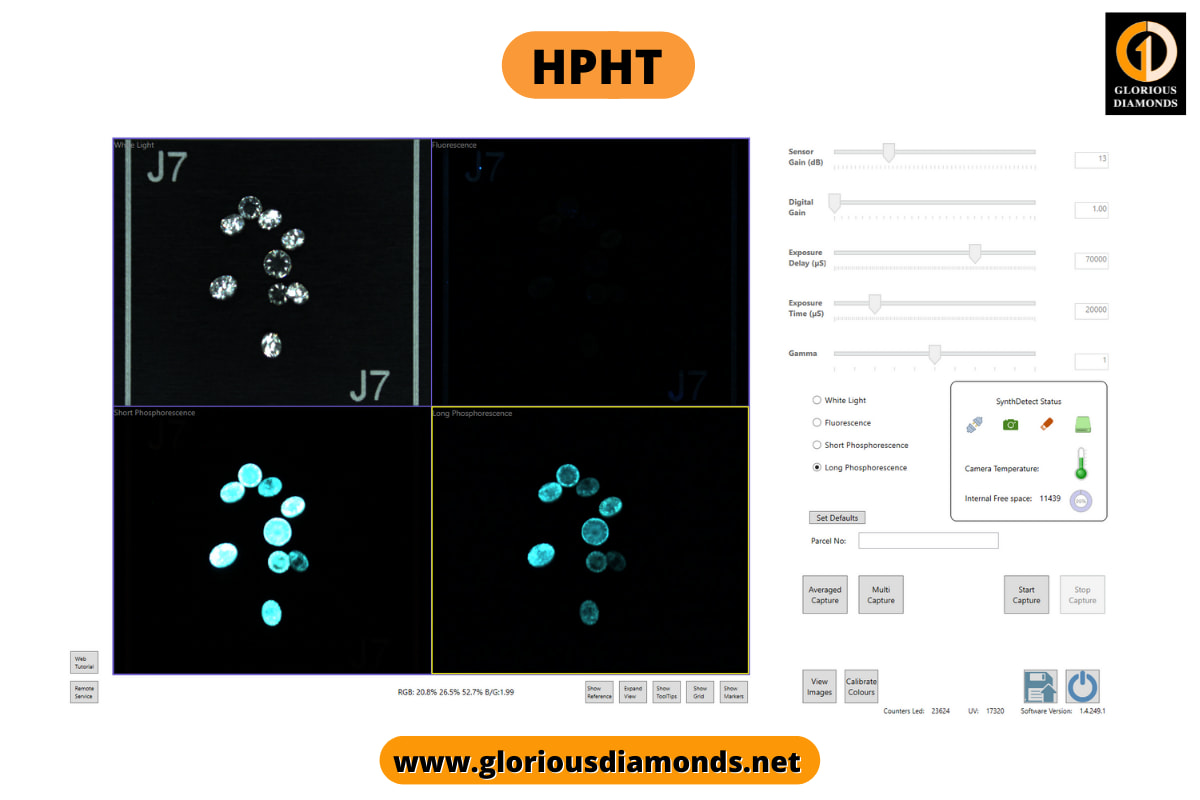 On Short Phosphorescence (1), most natural diamond can be identified by blue phosphorescence whereas typical HPHT synthetics can be identified by strong turquoise. Further identification of HPHT synthetics can be carried out by selecting Long Phosphorescence. A very small number of natural diamond may exhibit green phosphorescence. Select Short Phosphorescence (2) to isolate any blue phosphorescence. Full control is given over the delay and exposure to assist with isolating blue phosphorescence in cases where Short Phosphorescence (2) does not fully achieve this.
SYNTHdetect XL Stone Testing Capability (CVD Testing Machine)
Weight: 0.001 ct-100 CT
Colour: All
Shape: All
Diamond Simulants: Yes
SYNTHdetect XL Performance
The SYNTHdetect XL's performance with the ASSURE Core Sample is demonstrated in the following sample:
• Diamond False Positive Rate - 0%
• Diamond Referral Rate - 0%
• Diamond Accuracy Rate - 100%
• Speed (stones tested per hour): 583
SYNTHdetect XL captures images and, depending on the visual analysis of the images, automatically provides one of the following results for the operator to interpret:
Potential synthetic diamonds, diamonds, and diamond simulants could be found in the 'Refer' result. These referrals should be cross verified for accuracy.
Although the device has software to assist in this interpretation, it does require user interpretation. To maintain excellent efficiency, SYNTHdetect XL must be calibrated on a continuous basis. When calibration is required, the user will be notified by the programme . The instrument also includes a calibration sample.
"Glorious Diamonds" We are diamond factory & Diamond shop online , Our Jewelry store has product from the best-cut sources, With a GIA quality guarantee.